Скачать бесплатно
Panzer Campaigns: Stalingrad `42 - FAS RIP
Panzer Campaigns: Stalingrad `42 - FAS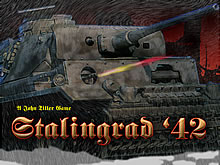 Developed by: HPS Simulations
Published by: HPS Simulations
Genre: Strategy (Turn-based / Wargame) / Top-down
Ripped: Intro
Release name: Panzer.Campaigns.Stalingrad.42-FAS
Release date: 04.04.2006
Following its setback in front of Moscow in late 1941, Germany's mighty Wehrmacht surged forward again in the summer of '42. After defeating an ill-fated Soviet summer offensive at Kharkov in May, the Germans drove onward to Stalingrad and engaged the Red Army in vicious house-to-house fighting. Stalingrad proved to be Germany's high tide on the East Front. Now you can re-fight this titanic struggle, exploring both the historical situation in addition to a number of plausible "What If" situations: a German withdrawal instead of the ill-fated attempt to hold Stalingrad, a corseted flank defense, or a powerful panzer rescue force made available had Rommel been successful at Alamein.
This is the game that everyone has been waiting for in the Panzer Campaigns series!
Stalingrad '42 includes 42 scenarios covering three periods of the campaign. There are ten individual scenarios covering the early fighting in July and August. However, the game focuses on Operation Uranus, where the Soviets broke through Axis lines and surrounded the German Sixth Army. There are 23 scenarios drawn from this operation, including a full historical campaign covering the encirclement as well as the relief effort. There is also a short campaign covering just the encirclement. "What If" situation explore such options as the German Sixth Army being permitted to retreat from the Volga when the danger of envelopment was apparent, or if they had adopted a more logical (in hindsight) "corset" flank defense with Germans divisions being interspersed with the Rumanians. This is your opportunity to change the course of history!
Game features include:
- 42 Scenarios – with optimization for PBEM as well as a separate version for play against the system AI.
- The Master Map covers almost 74,000 hexes.
- Three separate Order-of-Battles with over 4000 units in the Uranus scenarios.
- Game scale is 1 hex = 1 km, 1 turn = 2 hours.
- OOB & Scenario editors which allow players to customize the game.
- Sub-map feature allows the main map to be "chopped" up into smaller segments for custom scenario creation.
Stalingrad '42 provides multiple play options including play against the computer AI, Play by e-mail (PBEM), LAN & Internet "live" play, and two player hotseat.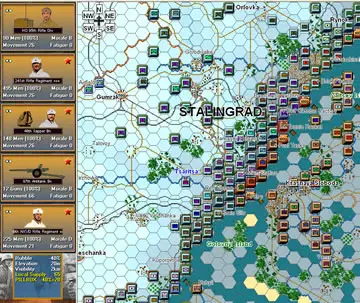 http://rapidshare.de/files/17654630/Panzer_Campaigns_Stalingrad__42_-_FAS.rar

Уважаемый посетитель вы вошли на сайт как незарегистрированный пользователь. Мы рекомендуем вам
зарегистрироваться
либо войти на сайт под своим именем.
10 апреля 2006    Добавил:
Demonxx
  Просмотров: 1 550  Комментарии: 0  
Похожие новости
Информация
| | |
| --- | --- |
| | Посетители, находящиеся в группе Гости, не могут оставлять комментарии к данной публикации. |
Календарь ↓
« Март 2023 »
Пн
Вт
Ср
Чт
Пт
Сб
Вс
1
2
3
4
5
6
7
8
9
10
11
12
13
14
15
16
17
18
19
20
21
22
23
24
25
26
27
28
29
30
31
Архив сайта ↓
Сентябрь 2021 (9)
Май 2021 (3)
Апрель 2021 (1)
Март 2021 (3)
Ноябрь 2020 (5)
Июль 2020 (4)

Друзья ↓
» Порно видео онлайн
» Ведьмак смотреть онлайн
» Сокол и Зимний Солдат смотреть
» Фильмы и сериалы онлайн
» Скачать XXX Порно
» Win32Soft.Org
» Скачать Warcraft 3
» LuxSait.Ru

Обмен ссылками закрыт!
Статистика ↓