Скачать бесплатно
PGWARE GameGain v2.8.9.2010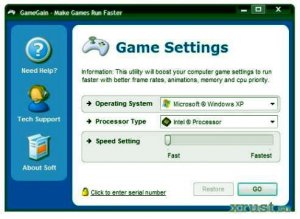 GameGain
- небольшая утилита для настройки ПК, которая позволяет освободить некоторые системные ресурсы для определенного приложения и тем самым повысить его быстродействие. Программа проста в использовании, обладает простым и понятным интерфейсом, совместима со всеми версиями Windows, позволяет непосредственно вносить изменения в реестр, может автоматически выставлять правильные настройки и т.д.
The all-new GameGain 2 sets the standard for PC optimizing software. One of the first products to enhance gaming, it increases overall speed and squeezes out every last bit of performance your computer is capable of. Very easy to use, fully compliant with all versions of Microsoft ® Windows and adjusts itself to your computer specifications. Take your existing PC and revitalize it the easy way to run games faster. Bring your gaming to an all new level.
GameGain
is a tool that optimizes your system's performance and makes your games run better.GameGain is based off our popular PCMedik software GameGain differentiates itself by focusing entirely on gaming performance upgrades only.Playing computer games that run entirely too slow or show poor performance? GameGain attempts to solve such problems and at the same time increase computing performance.
GameGain
boosts your computer gaming performance by modifying several system settings, so you can now use that old computer or new computer of yours as your primary gaming station. No installation or modification needs to be made to your hardware, GameGain does all the complicated settings for you instantly.GameGain works on all 32 bit platforms of Windows. From Windows 95 up to the latest Windows XP you will enjoy the benefits that GameGain will bring.
Simply choose your operating system, select the processor type you're using and then choose the speed setting you want and hit the 'GO' button and you will notice performance increases for gaming that your computer has never seen before.We wont promise that GameGain will do wonders and make your computer work at astronomical speeds, but you will notice your computer working much smoother and overall performance greatly improved.
Features of "GameGain":
· Makes direct changes to system registry and system files to enhance memory, screen drawing, animations, refresh rates, cpu threading speeds.
· Automatically adjusts settings and changes made based on computer specifications, complete fault tolerance system implemented.
· Proven technology which can double the frames per second rate in games such as id Software's DOOM 3 and similar shooters.
· Deep system analyzer and diagnostic features which attempt to find and repair any potential problems with the computer affecting its performance.
· Advanced software based over-clocking features to enhance memory and cpu priorities.
· Easy and intuitive user interface which performs all setting changes immediately.
· Try before you buy licensing with FREE lifetime upgrades and quality technical support.
Requirements:
· Microsoft Internet Explorer 4 or higher
· Intel Pentium 90 MHz or higher (P 166 MHz recommended)
· 8 Mb RAM (32 Mb recommended)
· 5 Mb hard disk space
· VGA or higher resolution monitor
· Mouse or other pointing device
Размер:
2.30 Mb
ОС:
Windows 2000/XP/Vista/7
Интерфейс:
English
Лекарство в комплекте
Скачать | Download
PGWARE GameGain v2.8.9.2010
Уважаемый посетитель вы вошли на сайт как незарегистрированный пользователь. Мы рекомендуем вам
зарегистрироваться
либо войти на сайт под своим именем.
14 августа 2010    Добавил:
alahabuka
  Просмотров: 274  Комментарии: 0  
Похожие новости
Информация
| | |
| --- | --- |
| | Посетители, находящиеся в группе Гости, не могут оставлять комментарии к данной публикации. |
Календарь ↓
Архив сайта ↓
Ноябрь 2020 (2)
Июль 2020 (4)
Май 2020 (7)
Январь 2020 (2)
Декабрь 2019 (1)
Август 2019 (1)

Друзья ↓
» Порно видео онлайн
» Softik.Ru
» Warez Team.WS
» SoFT-CoMMaNDeR
» Скачать XXX Порно
» Win32Soft.Org
» Скачать Warcraft 3
» LuxSait.Ru

Обмен ссылками закрыт!
Статистика ↓